Shop hazards: dropping clamps, swearing and being safer…in that order
I went to my workshop the other day, and because I was only applying a finish to a few pieces of furniture, I just put on my sneakers. I bet you know where this is going already. Before I started to finish anything, I wanted to clean up the shop so clutter wouldn't get in my way.
Cast your vote in 2021 Tool of the Year Awards
Cast your vote and get a chance to win a DeWALT combo drill/driver.
This visually striking box is simple to make, and can be customized many ways.
2021 Virtual Woodworking Show
The 2021 Virtual Wood Show runs from November 12 to 14. Sign up before Nov. 11 for a FREE weekend pass.
Shop and Jobsite LED Lighting
HomeInOn: To do good work you need good lighting. We look at 5 different options.
Five cordless stick vacs to clean your castle
They're compact, light in weight, highly maneuverable, have suction power that rivals corded models, and can deliver longer runtimes than ever.
King Canada 6-1/2"variable-speed plunge cut track saw
Sponsored: Ideal for smooth cutting of solid wood and plywood, especially when combined with the optional 50" track model KW-300.
New DEWALT outdoor battery-powered products
Sponsored: New products include a chainsaw, pruner, rear wheel drive mower and electric pressure washer.
Win a FEIN MultiMaster MM 500 Plus top set
Nine ways to enter, one great prize to win!
Introducing the SpinRite router motor
Sponsored: The SpinRite router motor is built from the ground up to be married to a router lift or a small-shop CNC.
"Pleasure in the job puts perfection in the work"
Aristotle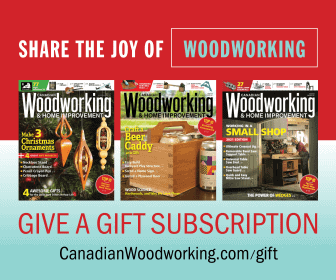 For advertising
opportunities
contact Chad Martin
This newsletter was sent to . If this email was forwarded to you,
You are receiving this email because you opted in at our website.
Inspiring Media Inc. o/a Canadian Woodworking, Box 808, Niagara on the Lake, ON L0S 1J0